Engaging Beyond Words: using visuals for understanding & learning
November 30th, 2023, 11-5 EST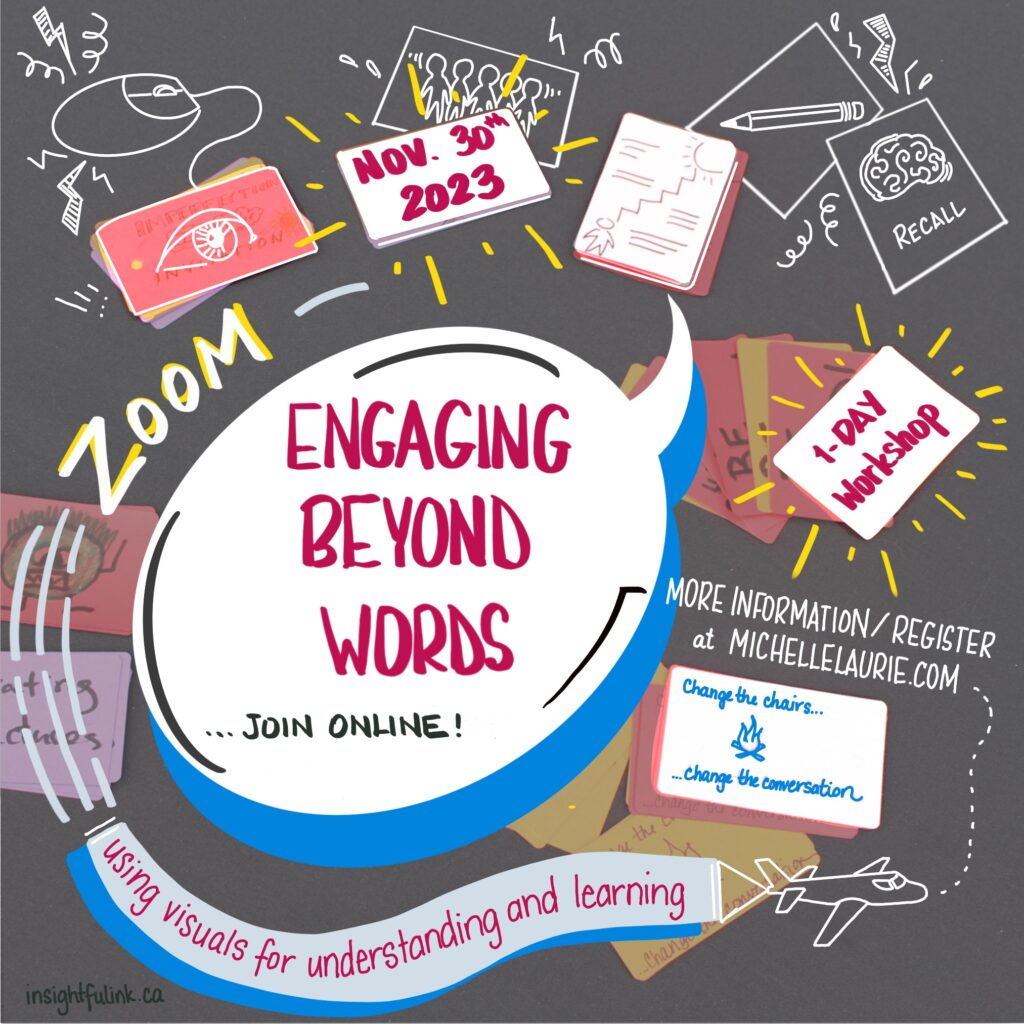 This full day session explores a range of visuals methods to increase engagement, understanding, and retain learning. Educational researchers suggest that approximately 83% of human learning occurs visually – a fact we need to consider when sharing information and engaging groups.
If you want to improve your presentations, reports, teaching, facilitating, designing engagement or any activity where you could use a boost to explain and share information with people, this training is for you. The ideas and concepts are transferrable to a variety of contexts in-person and online.
The day will run through visual vocabulary and basics, organization of ideas visually, considerations and tools for the in-person and online experience, case clinics to address real life scenarios, as well as facilitation techniques that you can practice immediately. Expect to have fun, explore your creativity and leave with lots of inspiration to add visuals into your work in person and online.
Facilitator /Trainer / Learner
Michelle is a life-long learner of meaningful engagement and participatory process. She has been learning about (and preaching) the virtues of engaging groups with visuals for the past 15 years! Having designed and facilitated hundreds of workshops, this NEW ONLINE workshop pulls together ideas gained from real experiences supporting clients in their quest to engage community, employees, partnerships, students, and the public as well as 10 years of delivering graphic facilitation workshops.
Graphics, illustration and technical guru
Lisa is a professional graphic recorder, illustrator and educator. She is skilled with her markers, her tablet as well as video, camera and sound. She uses visuals to enhance engagement and meaning making in-person and online and is looking forward to sharing what she has learned over the last fifteen years with you! 
This workshop will be hosted online with Zoom. Details are provided with registration.
Three people from one organization, fourth comes FREE.

        Save $425 when bringing a group of four.
Register before October 5th.

Complete the form below to reserve your place. You will be notified about the final date and workshop registration once details are confirmed.
participant FEEDBACK from past workshops
Relevant to most areas of life
I found Michelle's graphic facilitation workshop not only applicable to my work (which I initially wondered about), but also relevant to most other areas of life. As a research manager, I've been less confident working with my right brain despite knowing how helpful those right-brained tools can be for public engagement. Michelle provided me with strategies, templates, and a graphic toolbox to assist in conveying sometimes complex research foci to broader audiences. I quite highly recommend this workshop to anyone organizing team meetings, engaging with the public, participating in education activities, or even helping your children with their homework. I'll be taking it again when offered!.
Research Scientist, Morrow Bioscience Ltd, workshop participant 2019
Your workshop was really instrumental for me in my work. I use graphics in my research and am often invited to do recordings for strategic planning or dialogue-based events.
Regional Practice Leader, Research and Knowledge Translation, Interior Health (2019)
Worked well with culturally diverse group
I hired Michelle to design and deliver a training on graphic facilitation for First Nations community engagement coordinators who work in rural and remote communities. The training was fantastic focusing on relevant and innovative techniques. She worked well with the culturally diverse group as a highly skilled facilitator as well as sharing these skills with the participants. I recommend the training to others and hope to engage her again with our work in the North.
Manager Community Engagement, First Nations Health Authority (2018)
Generously shared knowledge
I was looking for some hands on learning in graphic facilitation and was lucky to find Michelle Laurie's annual Rosviz workshop in Rossland, B.C. She skillfully and generously shared her knowledge and experience in a fun and practical way.  I was looking to increase my skills in harvesting and sense making in real time in my workshops and dialogue sessions.  Laurie's workshop helped me up my game (as a facilitator and process designer) and my practice in graphic facilitation has taken off like a rocket.  I apply graphic facilitation to almost everything when I have the opportunity.  It's like Frank's Hot Sauce commercial.  I put that s— on everything! and wow what a difference it makes for my clients who are bogged down or overwhelmed by complexity.  The feedback I get from my clients say it all.  Thanks Michelle for helping me take my work to a new level.
Department of Environment and Parks, Government of Alberta (2018)
It was an exceptional workshop and we both got a lot out of it on many levels.  You packed it full and yet it felt so fun and energizing!
Consultant, workshop participant 2014
Very interesting workshop
It was a very interesting workshop. I am practicing drawing figures at most meetings I attend. I hope to use this new skill at a big brainstorm session coming in the fall with my teams. Thank you for a good time and course.
General Manager of Development Services, Local Government (2018)
I wanted to send a quick thank you for hosting such a wonderful workshop. I had a fabulous time and learned a lot, even though I already took the workshop 4 years ago I was thrilled to have the opportunity to take again. The content is rich, the hands on application powerful, the people genuine and the instructors first class. Being immersed in this creative process for two whole days is an amazing experience, I would recommend it to anyone interested in learning more about graphic facilitation and how it can help positively transform group process.
Loved the workshop with Nancy and Michelle…it really was practical and applicable to my work as a facilitator. I still love creating harvest walls and seeing the ripples for others who want to try it out! And also it is such a lasting memory for participants.
Facilitator, Interior Health (2018)
Learn to draw with wild abandon! Take this course!
Workshop Participant 2013
Director of social service organization