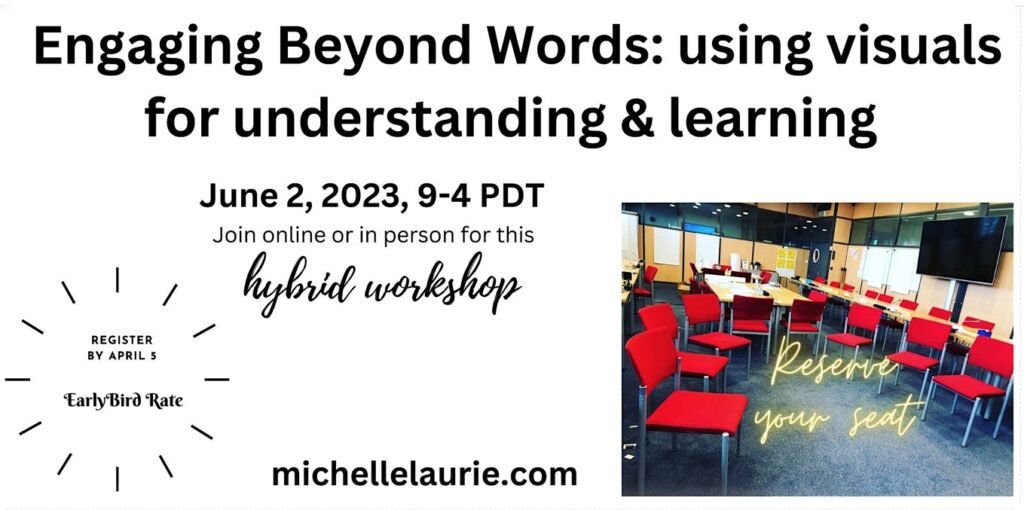 Did you know that older adults have been found to be just as adept as younger people when it comes to recalling new information, as long as they draw what they're trying to remember? People think differently when drawing then when reading words on a page. With this in mind I have put together a NEW one-day workshop for those people hoping to engage their audiences (including the visual learners!) and help them retain information. We will look at a variety of formats from reports and presentations to flip charts and large-scale graphics (for those that like to draw on walls).
What else is NEW? The workshop is HYBRID! We are a team of three facilitators to ensure whether you join in-person or online, you will be immersed in the full experience. For those who have been playing with HYBRID, this should be an excellent demo of what is possible in terms of engaging online and in-person "together".
Stay tuned for registration information. For now, I am finalizing contracts with the lovely Josie Hotel in Rossland, BC as well as getting the webpage up for sharing more details. Looking forward to this new offer, experiencing what is possible in the hybrid setting, and meeting a wonderful group of learners!