One of my favourite tools for visualizing where a group is currently 'at' is the Ecocycle mapping tool from Liberating Structures. It is visual, adaptable, has layers, and generally sparks lots of good conversation. I use it with clients to help groups see the bigger picture and find ways to have new conversations. I also teach it as a template in my graphic facilitation trainings.
I read a post on LinkedIn recently where someone suggested using Liberating Structures Ecocycle to map out your own work so I tried it on myself. I've been contemplating the work I do and after 'thinking' about it in my head (at times exciting and at times overwhelming), writing it down has been really helpful. Using the template, rather than simply a list, I organized all the various projects I'm working on into the ecocycle categories. Wow! It was illuminating. I made a blank 'template' version to share so you get the general idea. For those not familiar with this metaphor, in brief: Gestation are ideas; Birth are ideas that have started, new projects; Maturity are things you are doing that you are known for, they should be developed; Creative Destruction are items you want to get rid of to make room for new things. Also on the left is scarcity (items that have limited resources, time, money) and on the right is rigidity (items that are 'stuck').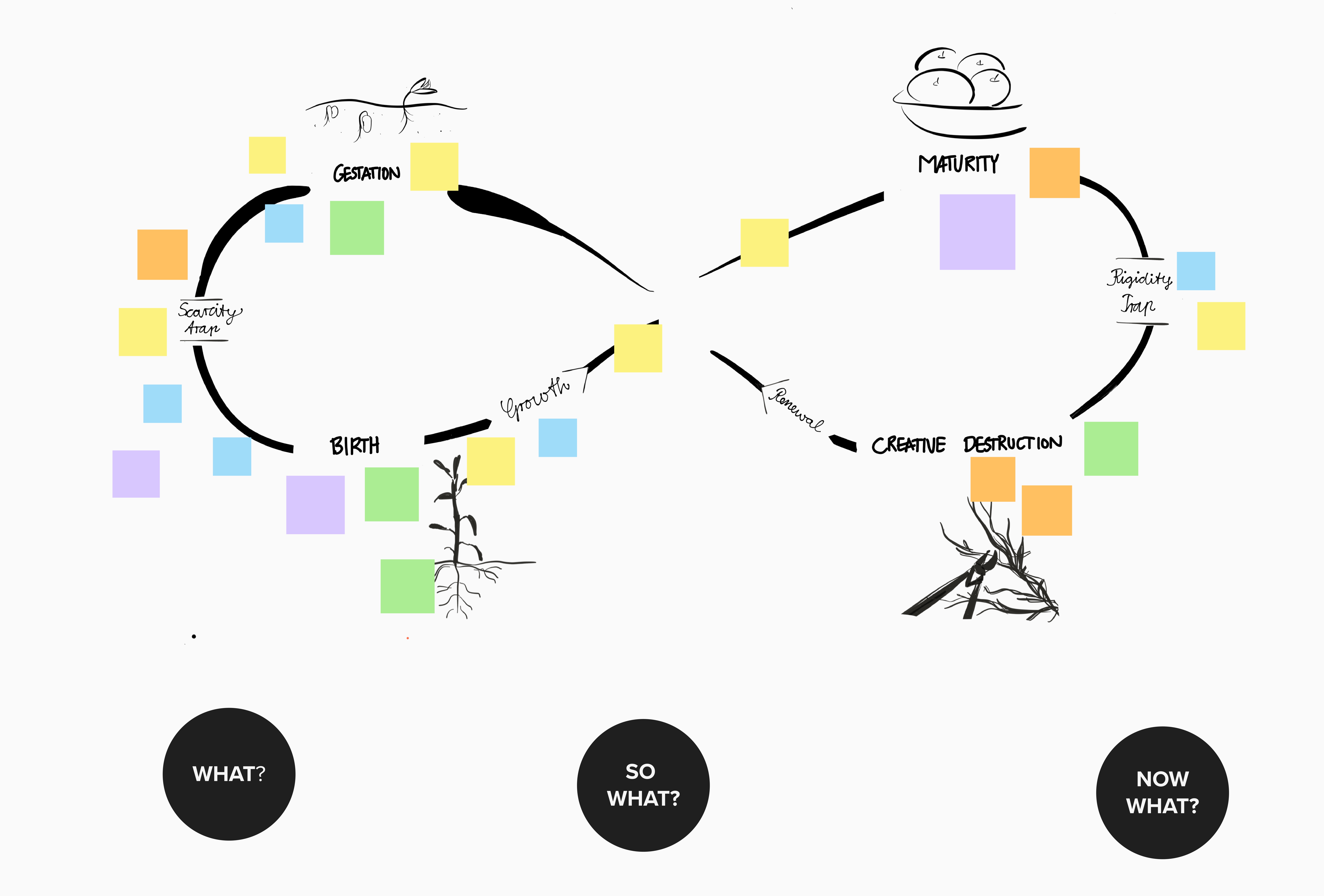 Using another Liberating Structures process W3, I reviewed the map by noticing what was there, consider why that was interesting (or not) and finally what I will do next. I quickly realized that I have a lot more post-its in the area of 'gestation, birth and scarcity'. These are places that require lots of energy to get things moving (exciting and overwhelming). I have one major project in 'maturity'. This is really helpful to provide some stability but can also feel vulnerable or less interesting as I love diversity as well as resilience in my work ecosystem. It felt great to see some volunteer work that brings very little joy placed into 'creative destruction'.
Now what? My next move is to review what is on the left side of the map and consider where I should put my energy first. I'm also going to look at my mature work and see how to ensure it stays interesting and doesn't fall into a rigidity trap. Using visual tools for my own work planning processes has inspired me to consider what other visual tools I can use to help better understand my current work and how it may evolve in the coming year. Next up is a journey map….!