Have you ever been to a conference where you interacted with great people, were exposed to new and innovative ideas and left feeling energized and inspired?  This is Northern Voice!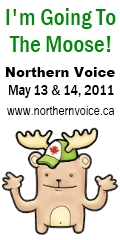 On Friday May 13th, Sylvia Currie and I will be hosting a session called Drawing on Walls – Large Format.  I hope you can join us there!
Sometimes our imaginations are sparked by a visual where words fail us. Think about when communities plan and imagine their futures, when teams consider the possible outcomes for their projects, when groups create maps to track their progress. These are all opportunities to use visuals to engage and deepen community dialogue. In this session we'll touch the paper, play with the pens, and loosen up our drawing muscles. Warning: You will stretch beyond the confines of typing on a keyboard!
Learn the basics and practice with us at Moose Camp!